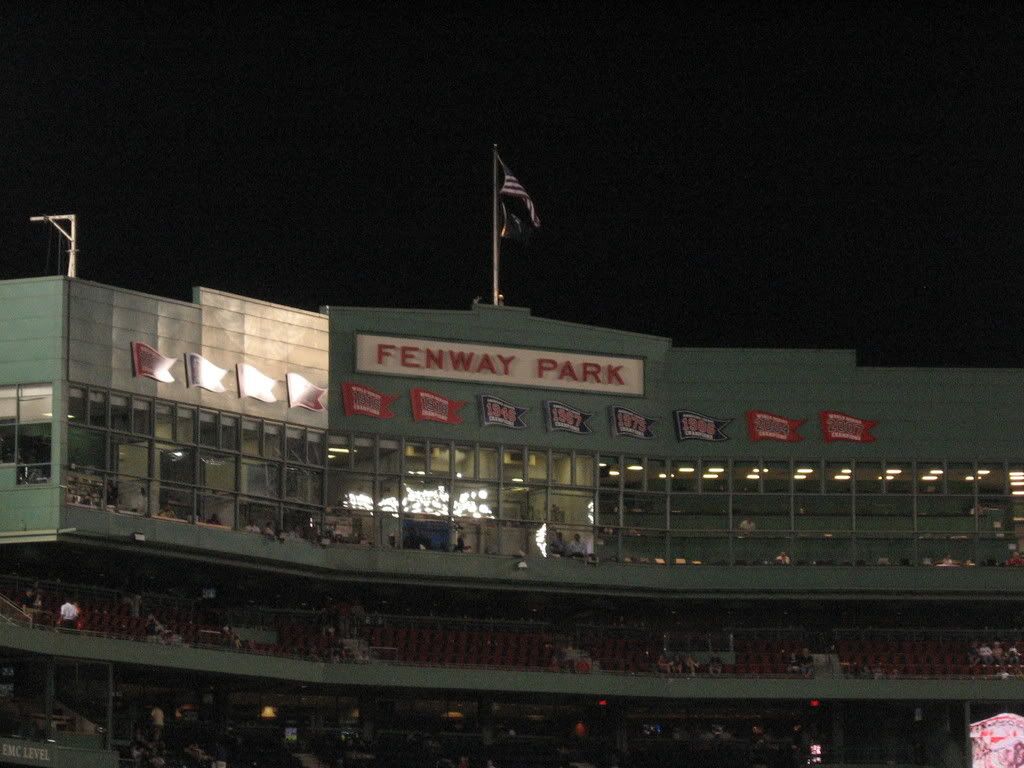 ...yeah, I had a good time up there last night. As I rolled up on the yard, though it was two hours before game time, Red Sox Nation was out in full force. Among the fans were many aspirants to the title of the "future Mrs. Jacoby Ellsbury." To clarify, I considered any reasonably attractive woman wearing a No. 46 shirt to be vying for that designation. It was like a little street carnival on Yawkey Way and Lansdowne Street - in stark contrast to the fairly sterile atmosphere surrounding Shea when I was there last weekend. Inside the park, I was struck by just how small the field was. It looked like a postage stamp in comparison to the other ballparks I've attended. As for the game itself...well, I now really like the Angels to win the World Series. Nine runs on sixteen hits...and their new first baseman, Mark Teixeira, was 0-for-4. Of course, it didn't help that half the time, the Red Sox treated the ball like it had mononucleosis (four Boston errors). Josh Beckett was great...for the first three innings, and even my best friend RB (whose birthday is today - WOO!) knows that a baseball game lasts longer than that. Should the Mets make a deep run into the playoffs, I would not be pleased to see the Angels making a similar run.

After the end of the game, I had originally intended to chill out for a bit, with an eye towards ending the "interminable streak." I had even picked out the place before leaving my apartment - the Cactus Club, courtesy of Boston Citysearch. As I reached its location near the Prudential Center, I noted that it seemed pretty relaxed. But then, all of a sudden, other facts started catching up with me. Were I unsuccessful in my pursuit (the chances of which I'd conservatively estimate at three in four), I'd have to drive out of Boston at a very late hour - a drive of about one and three-quarter hours in length. My car was parked a ways from Interstate 93, meaning I'd have to go through the infamous Boston traffic to reach the highway. I did consider - but discard - pulling the Grand Bonecoming trick. (Put otherwise, the Minivan o' War is not intended for use as a mobile home.) I hadn't eaten in five hours, and I was working on less than four hours sleep. I also recalled the state of affairs on the boat prior to my departure on leave. While turning in the V-card is important, and on a majority of days is Goal No. 2, it is NEVER Goal No. 1. At half past ten last night, those two objectives directly conflicted. So I did get a drink - a bottle of Coca-Cola from a vending machine along Boylston Street, as I walked back to my car.

The next two and a half hours bore out the wisdom of that call. There was road work on southbound I-93 (state troopers). There were more random lane closures south of Providence (more state troopers). And to top off the cake, many patches of fog over the final twenty-five miles of the trip, almost all the way back to New London. I have a lot more to say on this issue, once the aforementioned state of affairs resolves. So while I effectively didn't take the house, I left the table up a lot. And it's only day seven of leave; there's still plenty of time to make something happen.

Undoubtedly the funniest moment to last night was when I pulled out my phone and saw that I had a text message from RB. It read:
The sad thing is i was really excited there for a minute. Battletoads was a fucking awesome awesome game in its day!
The first two words of my reply were "FOOLED YOU!" Having related those lulz, HAPPY BIRTHDAY DUDE!

(Update, 1650 EDT, 31 July: Last night's game was not only the beginning of the Mark Teixiera era in Anaheim - it was the end of the Manny Ramírez era in Boston. The three-team deal with the Dodgers and Pirates just flashed across the bottom of my TV. Wow.)