Last Wednesday night, I elected to pass on two events in New York City that I really wanted to attend. One, Tucker Max was doing a signing to promote the new edition of I Hope They Serve Beer In Hell. Two, my friend Gladman's band, Cold Flavor Repair, was playing at Sullivan Hall. While I flew the coop of work in sufficient time to reach Manhattan for these things, no stretch of operational risk management could justify the trip. I'd gotten less than four hours sleep the previous night. The show started at 9:00, so even if I'm out of there by 10:30, I'm not back in New London until after midnight. And I have duty the next day, so I'm getting up half an hour earlier than non-duty days. Hmm...all this is eerily reminiscent of the circumstances attendant on the Sara Bareilles show two and a half months ago. The day after the awesome sauce in Hartford, I was spent, and I didn't want a repeat, so I kept it local on Wednesday.

Two days later, I did make a trip to my ancestral home. I had to get some shit from the base, so I left straight from there, and completed the Groton-to-Northport transit in two hours and twenty-nine minutes...a personal best. Mom initially couldn't believe I'd driven around, but I reminded her that I carry the spirit (and genes) of the "road warrior." Late that night, I met up with RB and his new girlfriend, "T-Lovely." Cool, smart chick - and most importantly, the same age as my good friend. I gave him the promised copy of Bar Flower, and he played a few songs on the gee-tar for us. After that, it was off to the Nutty Irishman in Farmingdale to see The Benderz. I'd never heard them play, or even heard of them before this week. But their list of venues is familiar to me, as it's similar to that of Kristen and the Noise, so I expected good things. I was not at all disappointed. Nor could I complain about, shall we say, the "scene" in Farmingdale. Of course, there were also plenty of "new haircuts" there as well. This was my first trip out there in over a year, and I sure did miss that place.

Saturday night brought another venture out, to see The Gyst at the Nutty in Bay Shore. I hadn't been to that establishment in over a hear and a half, and was quite surprised that they had placed a staff member in the downstairs bathroom as an attendant of sorts. While I enjoyed the show, I bolted after less than a set...because the place was simply mobbed. Wall-to-wall, jam packed, mobility near zero after midnight. The most interesting point of the night came early, as I was at the bar watching the Winter X Games. Two ladies came up next to me, and at one point, one said, "he's watching sports, he's not thinking about sex." I intentionally passed up the opening, for two reasons. Neither of them was that cute, and a few minutes earlier, one betrayed her age - and it was a lot higher than mine. I also, for the first time, gave UFC an extended chance. I was not impressed. The heavyweight title fight from UFC 91 consisted of little more than clutching and grabbing...not the full-fledged beatdown the "league" is advertising. I'll continue to pass on this.

Of course, today was the return trip to the Armpit, another pleasantly traffic-free adventure. I am again ready to handle Ye Olde Submersible Death Trap. The trip was preceded with a restocking of the supply of Vitamin Y, to the tune of two cases. I considered not making that purchase, but then realized that I might not make it back up here in time to buy beer at the package store on base - which, you'll recall, is the only place in the whole of the State of Fail where I can buy the festive beverages today.

Maybe New York's next Senator isn't all she's cracked up to be. Maybe I'll remember to buy some straws the next time I'll go shopping. Maybe I'll figure out New York Form IT-203, which I have to file to get back nearly all the money New York withheld from me. (This year, I meet the conditions to file as a non-resident, and that's a fourteen hundred dollar boon.) In any event, I shall relax for the remainder of this evening, and share this one that I snapped shortly before leaving Northport: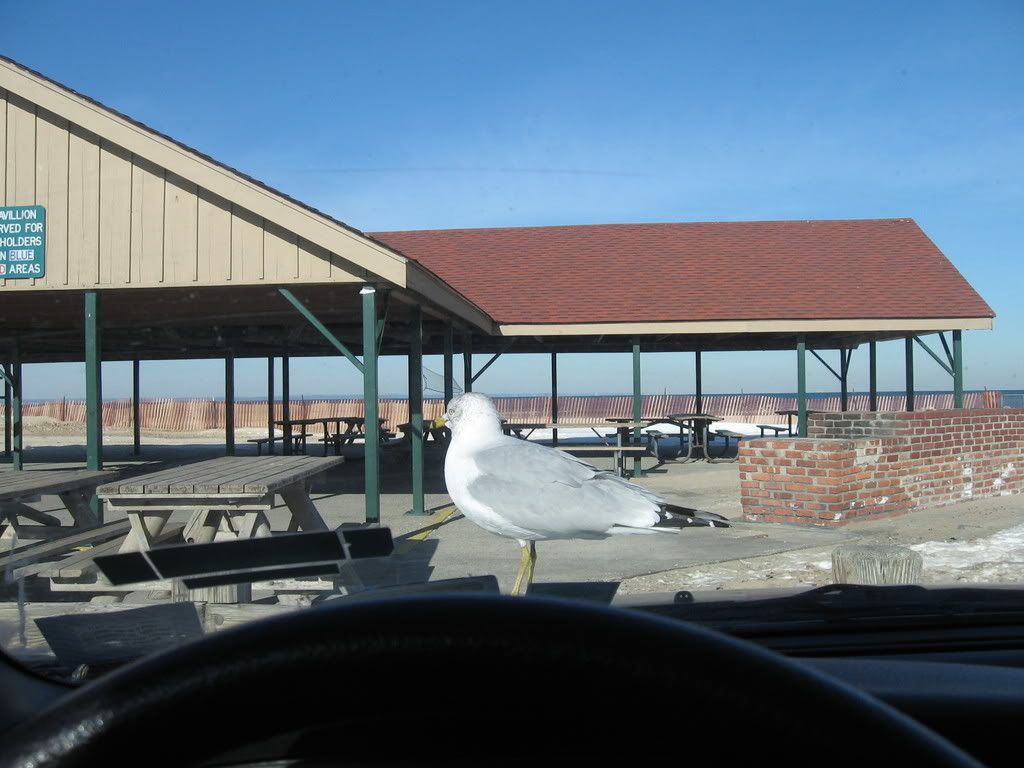 EDIT, 2030R, 25 January: I am watching the NHL All-Star Game, something not possible at the Ancestral Palace due to the family's cable package. It seems that a lacrosse match has broken out at the Bell Centre in Montréal, as the score is 10-9 early in the third. More important is my discovery that the "goal cam" is made of fail and AIDS, due to its sponsorship.