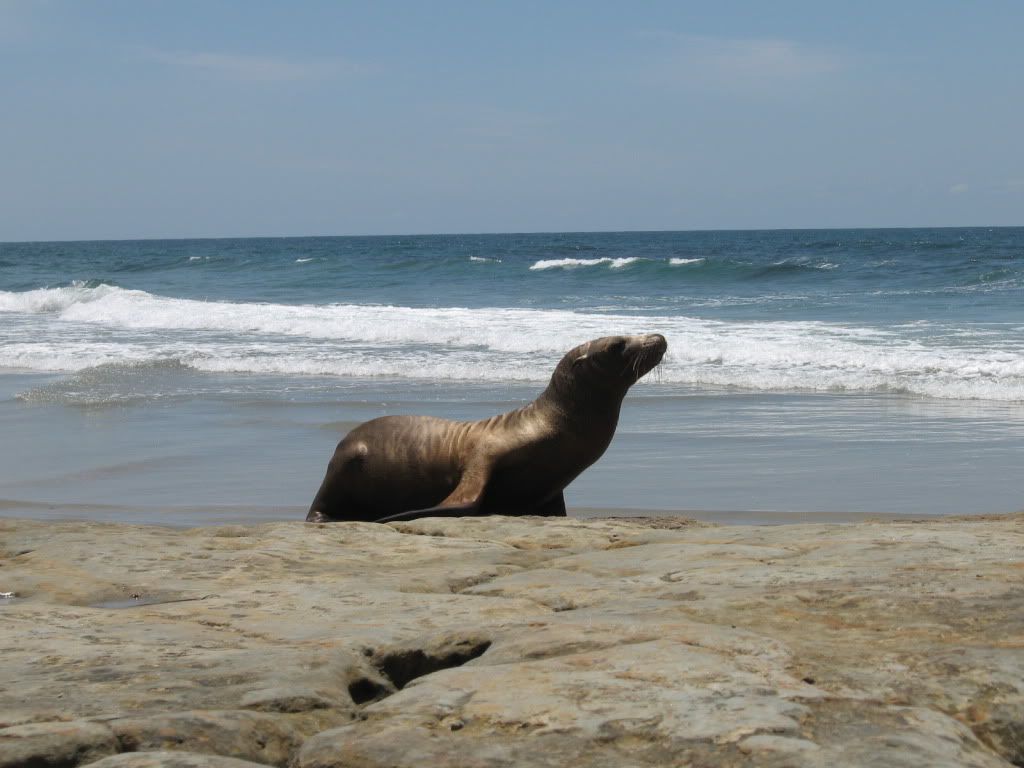 On the Pacific coast, humans and wildlife in coexistence.

"With so much drama in the LBC..."

After a late start, I made my way to the world famous San Diego Zoo. Upon arriving at the gate, I discovered the admission fee to be thirty-five American dollars - and promptly walked away. The only way I'd pay that much to get in there would be if a live panda birth was taking place and Ron Burgundy was reporting on it. I headed elsewhere in Balboa Park and walked around for a bit, then got lunch at In-N-Out Burger. Everybody from California raves about this place; I found my Double-Double to be adequate, but not spectacular. Then it was off to Torrey Pines State Beach a few miles to the north. I spent about three hours at the beach - a little sunning, and a little swimming. I didn't get the skin armor sunscreen quite right; I ended the day with some burning on the back of my left shoulder and the tops of my feet.

Just before leaving, I texted my friend Mike, with whom I'd be staying for the next two nights, to get his address. Five minutes later, I got a message back - from Facebook. It informed me that a different classmate would be appearing on Cash Cab the following day. Even without the directions, I rolled north. I was driving on the 405 when the reply came - asking who it was. A little back-and-forth was necessary before we finally got our plans set. I rolled into Snoop's hood, also known as Long Beach, and had dinner at Hooters. It was Military Monday, and I got the 20% discount even though I'm out. Throughout dinner, the SoCal jokes starting flowing in my head:


So that girl over there, she's an aspiring...actor, director, or screenwriter?
I wonder if Snoop Dogg and his crew have ever rolled up in here.

I'm glad I'm rolling out of here before the Lakers win the title and their fans riot.
Then I went over to Carson and met up with Mike at his place. We spent the rest of the night catching up, and reviewing pictures of the trip. I told the accompanying stories from the first fourteen days. Then we went through everything else on the memory card. That included a brief discussion of Bar Flower. Then we started hashing out plans for the next day, and we capped the night off by going around the horn on late night television, centered primarily on Howard Stern's appearance on Letterman. I finally fell asleep around one, knowing I'd need my rest for a big day...

Pictures: Day 14 (San Diego/Long Beach)