On short sleep, I made the drive down here to my ancestral home today. It was a most pleasant trip, free of traffic, and featuring
White Castle
. After lunch, I doubled back to the Northern State Parkway for the sole purpose of passing beneath my most favoritest road sign in the world
EVAR
: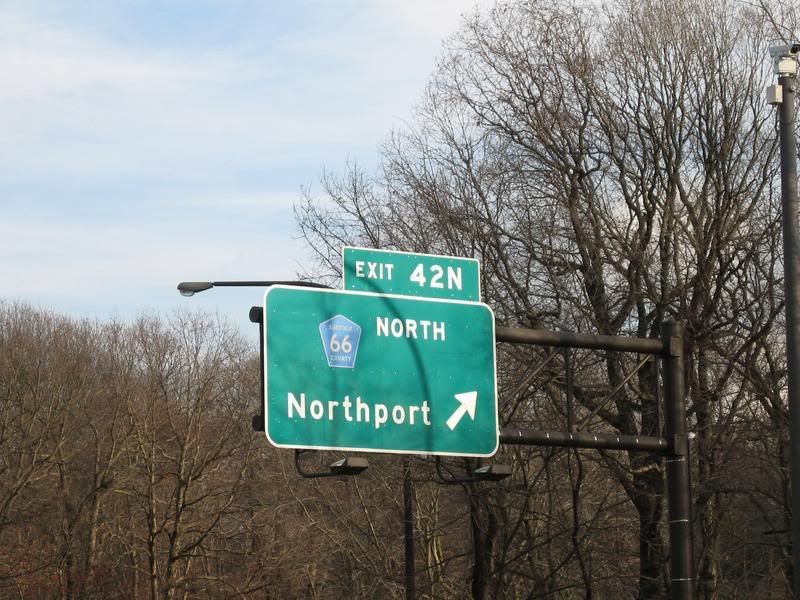 It's funny that I noted that passage as it occurred, because it was the immediate precursor to a most unfortunate event:
the apparent death of the Minivan o' War
. About three miles out from the Ancestral Palace, weird noises began to emanate from beneath the hood. Once home, I opined that it simply needed an oil change, and brought it over the hill to the repair shop for that service, fortunate that the flaw revealed itself when it did. I figured that the many long roadtrips over the last week had strained the Mo'W to near the breaking point. It was done a couple of hours later, but the noise did not abate. The repairman suggested that the van be "kept local." Not so much an option, given that I was 150 miles from home. Once my mom heard the noise, she was convinced that the engine was done for, and even I knew that sinking that much money into it was a bad investment. That reality hit me hard. In six days, I have to come up with a new car - buy it, register it, insure it, have it inspected, and then get Department of Defense stickers put on it once back in the Armpit of New England.
My parents and I went out to dinner, but I had little appetite. I was also still coming to grips with the whole car thing, and it dominated the time between the ordering and the food's arrival. Fortunately, I had the good sense to direct the conversation toward the topic of my father's job, and that provided some badly needed comic relief. I still didn't eat much, because I was barely four hours removed from lunch. Just after we got home, my mom got some great news - her little car, which wouldn't start at the outset of the day, somehow was back to full strength. And once it was returned to the Ancestral Palace, Mom made an offer that was too good to refuse...she was willing to turn over that ride to me. We have to send all the paperwork through, but that drama seems to have resolved itself in a manner much favorable to me. I'll introduce my prospective new ride in an entry all its own, once I have a picture of said vehicularity. I will state at this time that I should be subject to many fewer jabs from my co-workers on the subject of my transportation.
Since I was dealing with all that car stuff, my original plans of taking the train into New York City and engaging in the pursuits from which I had to abstain in Boston were derailed. Instead, I only got as far as Northport Village, taking in RB's performance at open mic night, as part of "Happenings on Main Street." Predictably, RB arrived twenty-five minutes late, but it didn't affect the timing of his performance. It was left to me to record video of the two songs, as RB's usual cadre of groupies (who are invariably female and several years younger than twenty-seven) was nowhere to be found. RB dedicated his brief set to me; I was honored, but also noted internally that it didn't help me get laid. In all fairness, not much of anything would have helped there, because all the attractive looking females in attendance were of high school age. That may have been (and may still be) RB's bag, but it sure as hell ain't mine. As is usually the case, we caught up on a great many things. The quality of the night was further enhanced by the unexpected arrival of our mutual friend Brewmeister and his lady. (He actually has been dabbling in the brewing arts, and I am anxious to taste his warez.) Brewmeister's parents also were there briefly, which was all kinds of weird because Brewmeister's dad is RB's boss. Brewmeister also had the line of the night; when RB asked about the state of his weiner, his reply was "it's still a shining pillar of justice." Additional hilarity came in the form of us having to explain to RB how Netflix and similar services work. Oh, and did you know he just recently learned that potatoes grow underneath the ground? These facts are even more unbelievable when juxtaposed against RB's extensive Mac knowledge and love (the fool actually
built
a Mac) and his affinity for non-pop music...once expressed to me by a devastating dissection of the career arc of Good Charlotte, down to exactly when they jumped the shark.
RB also extended a most interesting offer. He intended to use a long setup, as he correctly thought it's be something I wouldn't be interested in. But about two minutes in, I cut him off and asked him, "you want me to come to
Rocky Horror
, don't you?" He said it's something everyone should do before turning thirty. If that's the case, I've still got two years and nine months to check it off. I'm 97% sure I'm going to decline the invitation. I might have been more receptive to it had I gotten into New York this evening, but I now really want to use Saturday night to see the sights...in all their forms.