Jeff Benedict's new book,
Little Pink House: A True Story of Defiance and Courage
, details the nearly decade-long saga of Susette Kelo's battle to prevent the City of New London, Connecticut from taking her home by eminent domain. The struggle climaxed with the 5-4
Supreme Court decision bearing her name
, which sparked a nationwide outrage. These pages tell a story of how an ambitious governor, the makers of Viagra, and a college president on a crusade came together to try to remake a languishing city - but ended up with little more than scorn and a swath of land that looks nothing like what they envisioned for it twelve years ago. Benedict does give due deference to all parties on both sides, showing that most on the "winning" side were concerned first and foremost with New London's revival. But you need look no further than the words on the cover to see who the author is championing. Regardless of how you feel on the eminent domain issue, this is a page-turner and well worth the money. We spin the Big Wheel...and we get 90¢.
But for me, this wasn't simply about the book. I've lived in New London since last May. Ever since I first read
on Wikipedia
that Susette Kelo's house had been moved to another location in New London, I've wanted to go find it. After purchasing the book, I searched for the little pink house's address; I finally discovered it in a
Castle Coalition press release
announcing the dedication of the house as a landmark. Over the interstate, through the Big Corner, down Broad and right onto Cottage...whereupon I got my first view of this: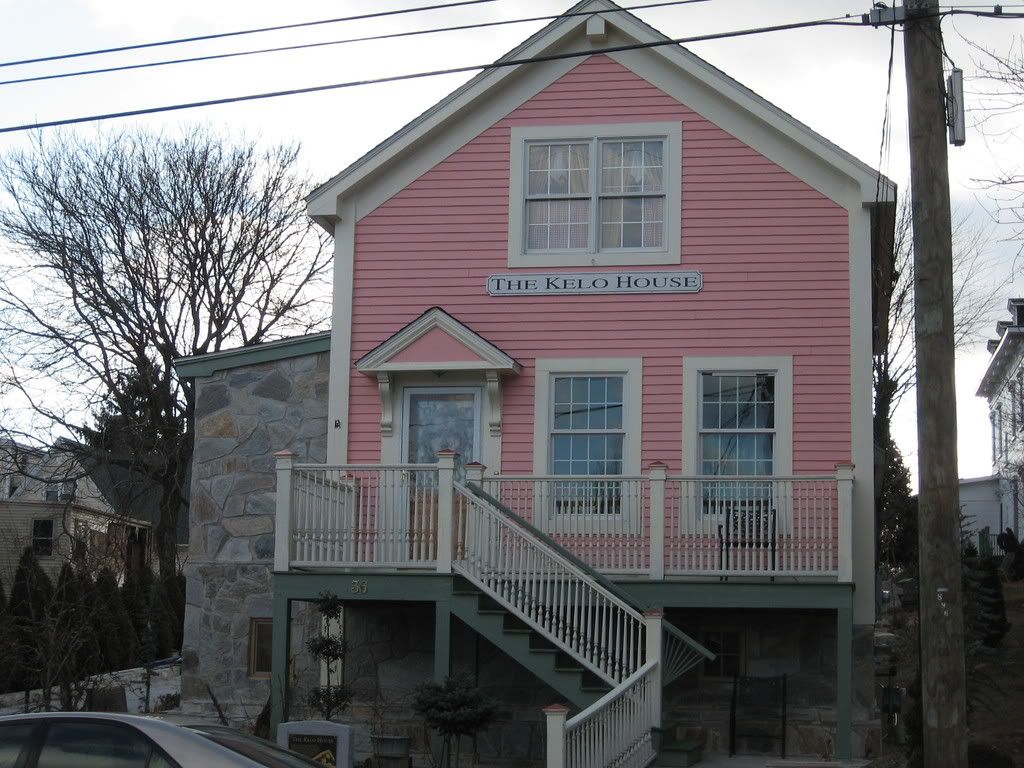 I knew instanly that I'd found my target. And I thought, "oh, God! That is
not
a subtle shade of pink!" (as stated on page sixteen) I stopped and took some pictures, satisfied that I'd checked off that box.
Then I drove down to the Fort Trumbull neighborhood that was the focus of the sweeping redevelopment plan. I had no clue as to just how to get there, but I ended up at Fort Trumbull State Park, very mindful of the debris being kicked up against the undercarriage of my car. Once there, out came the camera again:
Not a bad view at all...certainly better than what you see when you turn around:
It wasn't until I got home and really got into the book, and started looking at its overhead shots and Google Maps, that I realized just what I'd photographed here. I simply wanted a view of the Pfizer plant when I took the first one; I didn't know then that it was pretty close to the plot once known as 8 East Street. In fact, that might be the filled-in foundation of the house at the bottom. Likewise, the second image unintentionally captures much of what is depicted in Benedict's book. Not only do you see what remains of the infamous "Parcel 4-A," but both the Italian Dramatic Club (pink building, center left) and the only remaining building from the old Naval Undersea Warfare Center, now "One Chelsea Street" (center right). I took notice of the former structure as I drove down Nameaug Street on my way home, wondering how it was still standing; that question was answered for me inside of seventy pages. Not long after that, I read about how the agency overseeing the development grabbed the former navy base at no cost, after it was headed for public auction. In both cases, political connections and maneuvers were central to the ultimate dispositions of the property. Such connections were in short supply to Susette Kelo - and that made all the difference. Fortunately, Kelo and her neighbors were able to retain the
Institute for Justice
, who both litigated the case for the duration and raised public awareness of what New London did and the Supreme Court ultimately sanctioned. That renewed attention might be the only positive to come out of all of this. It came at way too high a price - the destruction of a neighborhood and the displacement of its residents, the land laying fallow and not producing taxes, and the vitriol and distrust that built up on both sides. It's crystal clear that this battle resulted in no winners on the ground in New London.
All pictures:
Little Pink House tour (New London, CT) - 20 February 2009