The Delaware Water Gap from the New Jersey side.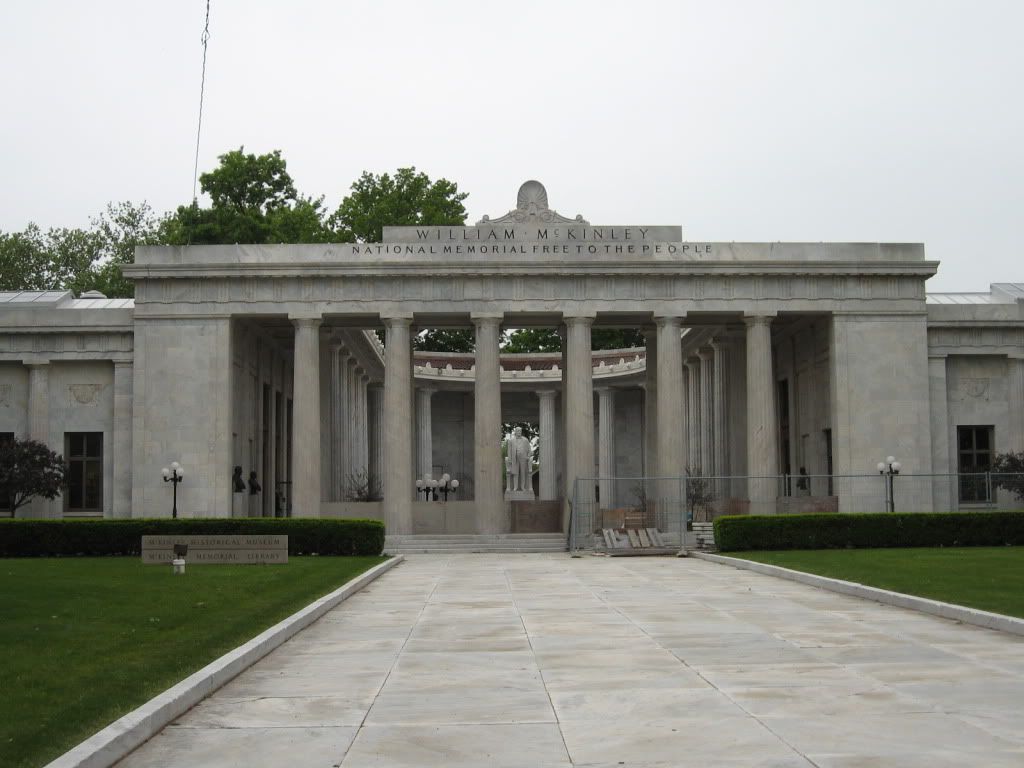 The William McKinley National Memorial in Niles, Ohio.
It kicked off at 8:53 this morning, as I rolled the Blue Trooper out of the Ancestral Palace. Traffic through New York City, cleared nicely one I got into New Jersey. I stopped just before crossing into Pennsylvania to take some pictures of the Delaware Water Gap. At the rest stop, I had to use the facilities, which happened to be portable units. None of them had any toilet paper - and given the various cloth and paper products in the bowl, I wasn't the first person to encounter this problem. Luckily, I had some napkins in the car. I made three stops in Pennsylvania, which seemed to take forever, but it was actually about five hours and twenty minutes. Most of that time was spent fighting rain and other vehicles' spray off my windshield. One accident near Clearfield brought traffic to a stop, but the ride was good otherwise. Two vehicles of note: one red truck billing itself as a "Multi Vocational Pumper" (MVP), and a Pennsylvania Department of Corrections bus that I made sure to pass quickly.
Once into Ohio, I got off the interstate to try to find food and accommodation. This course initially brought me through downtown Youngstown, which contains more boarded-up and rundown buildings than perhaps anywhere else I've been. Yes, even New London. I went a bit further down Interstate 80, at which time I decided that I wanted Applebee's. Thus I put the Garmin to work, and it got me there flawlessly. On the return to where I got off (and where much lodging is), I stopped in downtown Niles. I looked to the left and noticed a large structure. The inscription atop it: "William McKinley - National Memorial Free To The People." I certainly wasn't expecting to happen upon that. Niles is the 25th President's birthplace, and the memorial contains a library and museum (that was closed for the day). Then I rolled to the Comfort Inn in Austintown, where I now sit comfortably, watching the Cavaliers and Magic on the turf of the former.
Tomorrow I roll on to Canton and then Columbus. Less than half the driving distance and time of today; that's a welcome change.
Pictures: Post-Navy Roadtrip, day 1