It's a long way...but you can drive fast.
One of the sights in Denver's LoDo.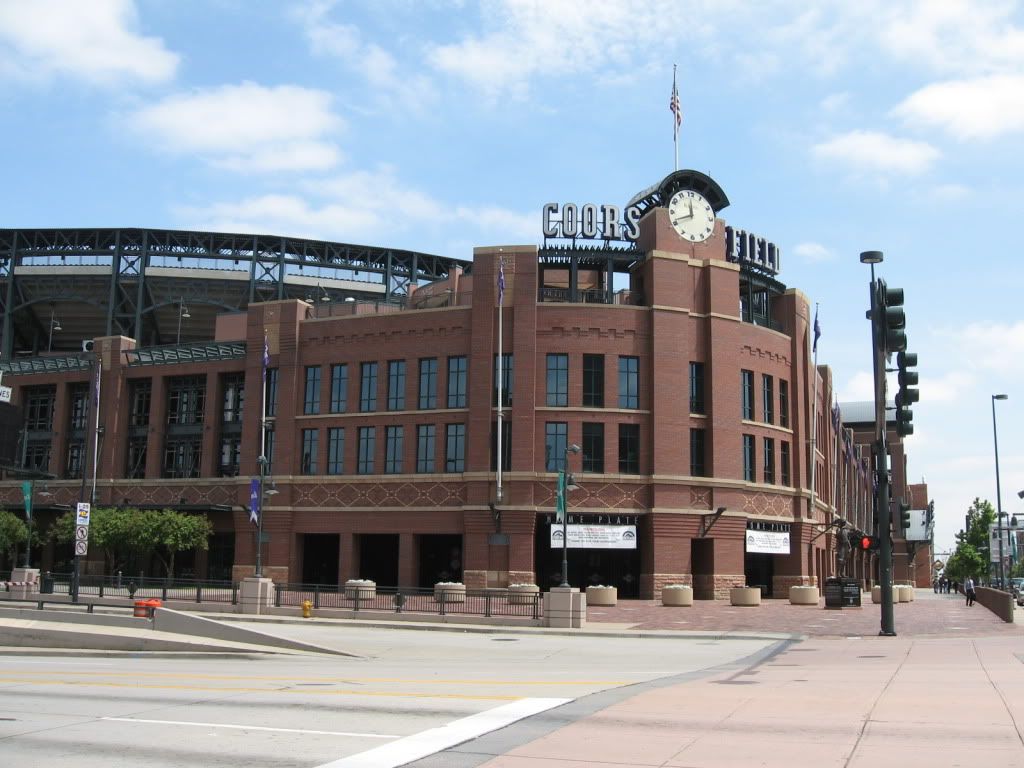 This used to be the home run capital of MLB...but now it's in the Bronx.
I knew it would be a long drive from Lincoln to Denver. I didn't expect there'd be very much along the way. This was confirmed what I put my car onto I-80, and the Garmin displayed "Turn in 294 mi." In fact, the first 75 of those miles were a nearly perfectly straight line. I saw clouds and rain; those were absolutely expected, given the weather report and the general pattern of the first few days of the trip. I also saw speed limits that are unfathomable east of the Mississippi (75 miles per hour), and plenty of future hamburgers along the roadside. I only made the minimum stops - one for food, and two for gas. At the lunch stop, I saw something quite surprising; a filling station advertising that it had the
"best looking cashiers."
Apparently, in North Platte, Nebraska, that will sell some gas. It was an otherwise long and nondescript trip...but it had an interesting end. Upon arrival in Denver, my body was fine - until I stood up from the driver's seat. At that precise moment, the combination of four hours without relief, lots of Coca-Cola, and possibly altitude effects caught up with me. I tried to make it to the hotel, but I couldn't even walk that one block. So I had to resort to something that got me through several in-port watches on the submarine - I found an empty Gatorade bottle, sat back down in my car, and let fly. I also broke out the jacket and long sleeves - quite a contrast between the late-afternoon lower 50s in the Mile High City and sweating my nuts off forty-eight hours prior in Kansas City.
Once I'd checked in I headed for the
16th Street Mall
, which is a giant section of the street closed to normal vehicular traffic. It does have free buses running in both directions. I took dinner at the ESPN Zone, getting to watch some of Game 3 of the Stanley Cup Final as well. Then I headed back to the hotel to change. I tried out Lower Downtown (or "LoDo"), but there wasn't much happening there. I thus headed for another supposedly hot section - Colfax Avenue. It was the same story, and on a couple of occasions, I had to accelerate to prevent being tailed by panhandlers. I never actually feared for my safety, but I still didn't desire the harassment. On the way back, I stopped off at a store and purchased some beer, a couple of which I drank back at the hotel.
I awoke kind of early the next day and spent a couple of hours before lunch getting to various sites. I hit the
Colorado State Capitol
,
Pepsi Center
,
Invesco Field at Mile High
, and Coors Field. (Yeah, I like sports stadiums.) After lunch I returned to the hotel and took a mid-afternoon nap - a welcome change from the driving on the previous days of the trip. That night's dinner was at the Wynkoop Brewery - it was there that I saw
a waterless urinal
for the first time. I took another loop around LoDo, but it was pretty similar to the night before. Not wanting to take another run down Colfax, I packed it in and headed back. I was neither surprised nor disappointed, given the early-week nature of my visit.
One thing I wanted to do but couldn't was check out the Coors brewery. It's open for tours Thursday through Monday. I also didn't make it to City Park in the northeast corner, but I don't consider that a huge loss. I came away from Denver generally impressed with its feel, and it's too bad I didn't get to see it jump a little more, but
c'est la vie
...
Pictures:
Day 8
|
Day 9