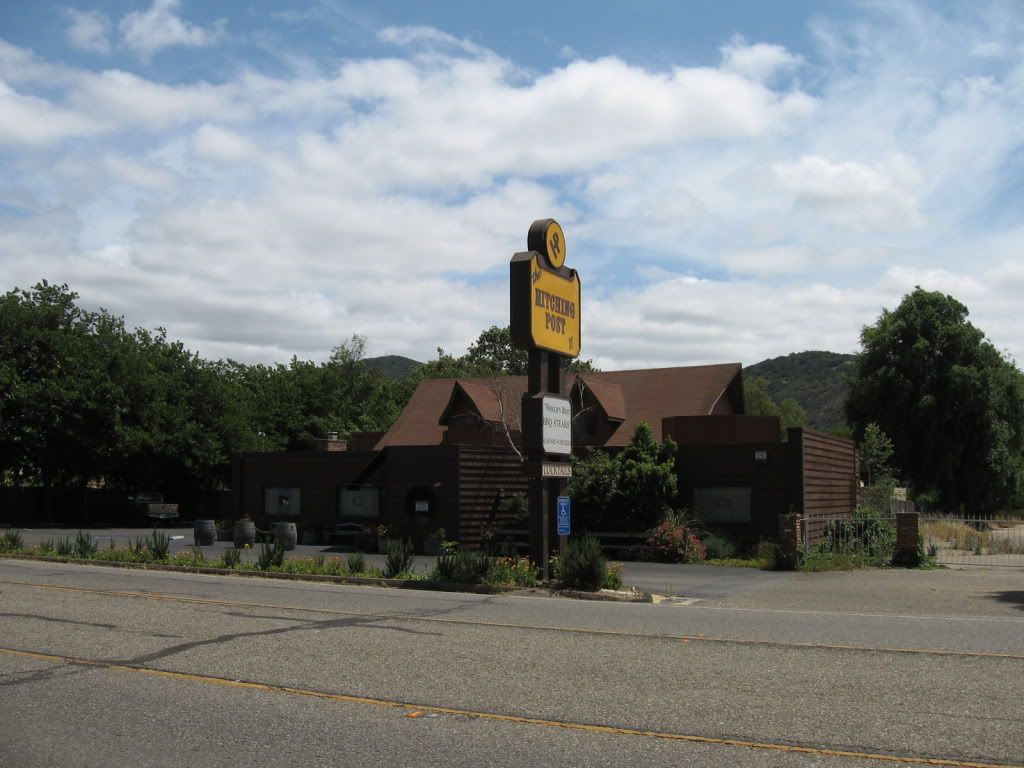 "It's practically my office when I'm up here."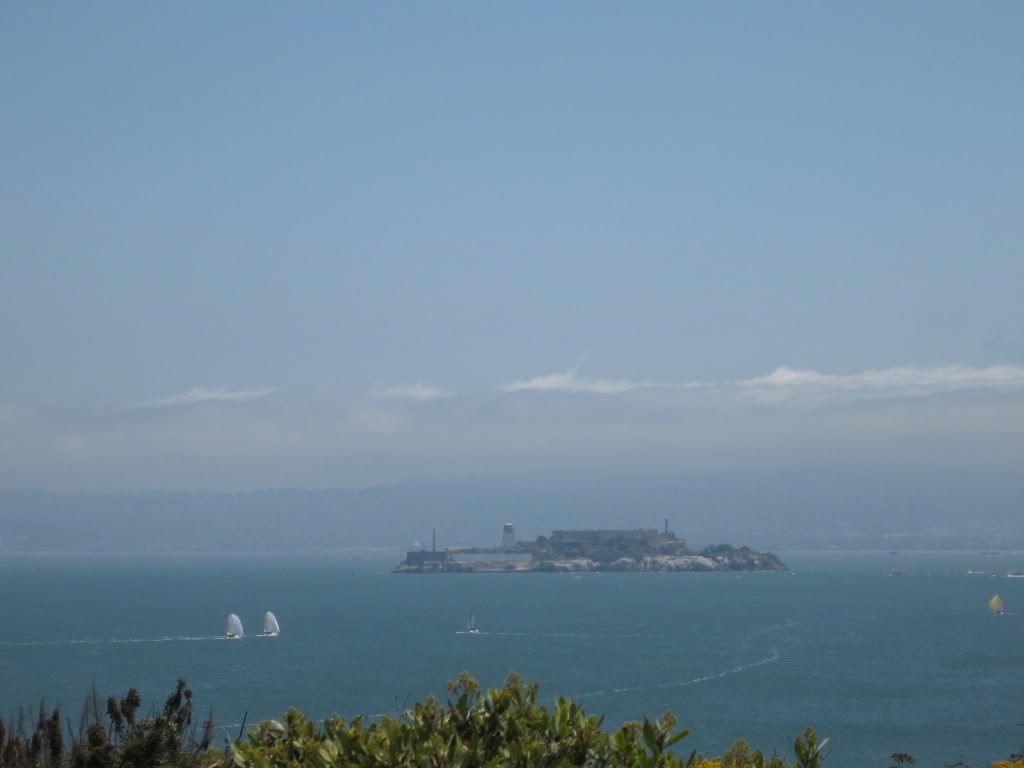 "Welcome to The Rock!"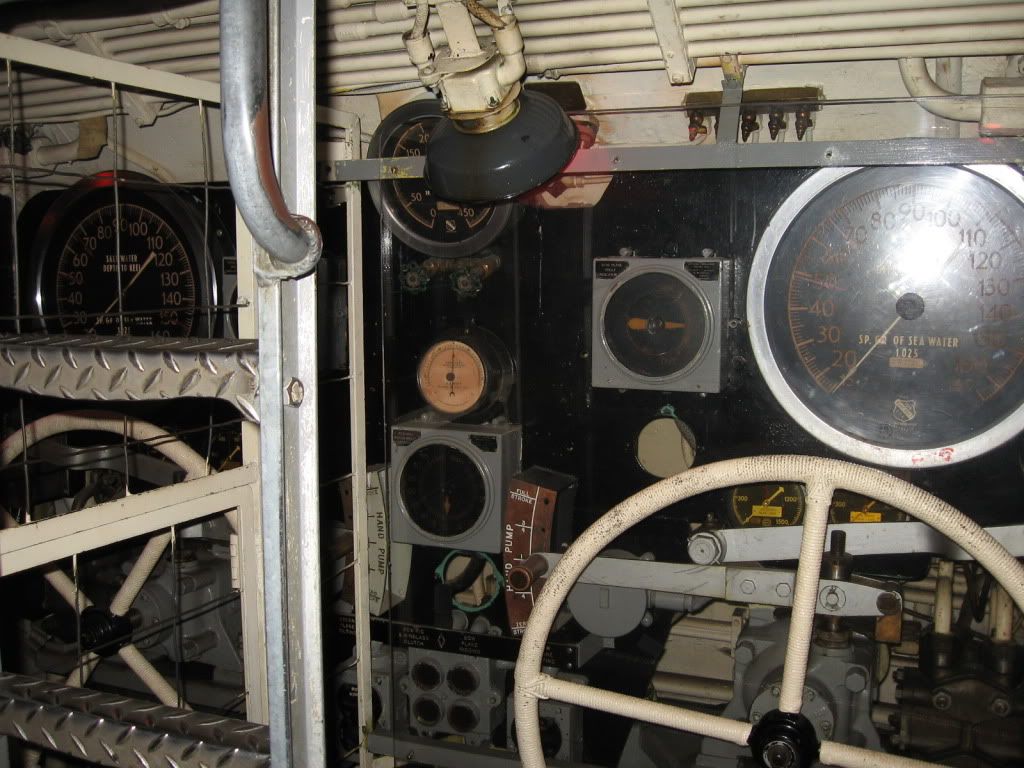 "Why don't we take her down to...oh, five hundred feet?"
I flew Mike's coop mid-morning, saying goodbye without his getting out of bed. I started by hitting some of the sports arenas in Los Angeles (Staples Center, Dodger Stadium) and Pasadena (Rose Bowl). Then it was up the 101. Lunch and gas was followed by a trip over the San Marcos Pass, thanks to the Garmin. This brought me into
Solvang
, a Danish-style community in the Santa Ynez Valley. I bought an interesting contraption there - a "lap tray" that is intended for use in the car. I figured it would help with eating meals on the go. From there, it was on to Buellton, where I briefly stopped by
The Hitching Post II
and the
Windmill Inn
. There most certainly is a common theme in both towns - they were both prominently featured in the 2004 Academy Award-nominated film
Sideways
. Stopping for gas in San Ardo was a bit unnerving at first...the sign advertising the place said simply, "GAS." I attempted to use the lap tray for the first time at dinner at Salinas. Clearly I didn't have it quite right, because I had to pull into a parking lot to eat the food. My next stop was Cupertino, to visit the world headquarters of
Apple Computer
. I touched down there for the sole purpose of obtaining
photos to make my best friend RB jealous
. He is a
diehard
Apple fan, and is a Genius at the Apple store at Roosevelt Field. When I finally got to San Francisco, it was nearly 8:30, and I was relieved to check in...
...but not encouraged by either the location or the state of the property. The Civic Center Inn is located near the Tenderloin section of San Fran; not until I checked
Wikitravel
a bit later would I learn that this is one of the city's most dubious neighborhoods. But its sketchiness first revealed itself in
a note I found on the steps heading up to my room
. I laid up on Wednesday night, getting some pictures up and
blogging Las Vegas
.
I woke up really early the next morning, and once again, I heard the housekeeping staff at an adjacent room. I wonder if this is a California thing, coming around at a relatively early hour. I hurriedly rushed out the "do not disturb" sign. Once I was ready to head out, I went to the headquarters of the San Francisco Municipal Railway, or the "Muni," to pick up a single-day pass. First sightseeing stop: the
Golden Gate Bridge
. Not only did I take pictures of the Bridge and Alcatraz, I had an overpriced lunch. From there, it was on to Fisherman's Wharf. Of all the things there, there was one I wanted to do more than any other - tour the
USS Pampanito (SS 383)
. This World War II-era boat museum is special for one particular reason: it played the
Stingray
in the film
Down Periscope
. Submariners, to a man, will tell you that this is the silver screen's most accurate depiction of submarine life. I took tons of shots below decks - especially of
the engine room
, which is classified on the Navy's modern nuclear-powered fleet. In the crew's mess,
I met one of Pampanito's old crew members
, and we talked and traded stories for a while. I kind of took on a tour guide like role to the other visitors, explaining a bit about how today's submarines are both like and unlike the one we were on. I followed that up with a walk around the Wharf, including a run-in with some guys painted totally in silver and moving like robots. By this time, it had gotten a lot warmer than when I left, so I briefly returned to my room to drop off my sweater and jacket. I hit up Union Square for a few moments, but couldn't find what I was looking for at Borders. I faced a dillemma...check out Golden Gate Park, or head back to Fisherman's Wharf for dinner? I elected to decide based on the next bus that came by...and it took me back to the Wharf. That dinner was at
Joe's Crab Shack
; I also got there early enough for happy hour, so you can infer what that meant.
I wanted to catch a bus back to the hotel, but I had to go and it couldn't wait, so I started walking. Luckily, I happened across Greens Sports Bar, and stopped for the restroom...and a drink of San Francisco's own
Anchor Steam
. I did hop a bus most of the way back. I chilled out for a spell and
blogged the first day in San Diego
. Finally, I headed to a place just up Polk Street called Vertigo. The beer started flowing quickly; to be precise,
Arrogant Bastard Ale
, which was quite good. I was drawn into a conversation with two young women and a male friend. One of the ladies was from San Diego, and she mentioned that she met her boyfriend while he was dressed as Ron Burgundy. We talked about the various aspects of California; of course, being from the Golden State, their opinions were higher than mine. Eventually, they left, and I was on my own once again - but not for long. Another girl came up to me and asked me if I was Irish. I conceded that I was not, though my ancestry is. She was really cute, and it seemed to be going well. The cause was not helped by the fact that I had to reject her offer of luxury box seats to the following night's Giants game. Sometimes, the hard-and-fast schedule works against me. But what really killed the vibe was the same thing that often kills it: I was completely, massively drunk. Despite this, I still managed to grab a shot of
a DJ suspended from the ceiling
. I would love to tell you how or when I got home...but I myself don't remember. It might not have been the best ending, but it didn't change the fact that I had an awesome time in the Bay City.
Pictures:
Day 16 (LA-to-SF)
|
Day 17 (San Francisco)