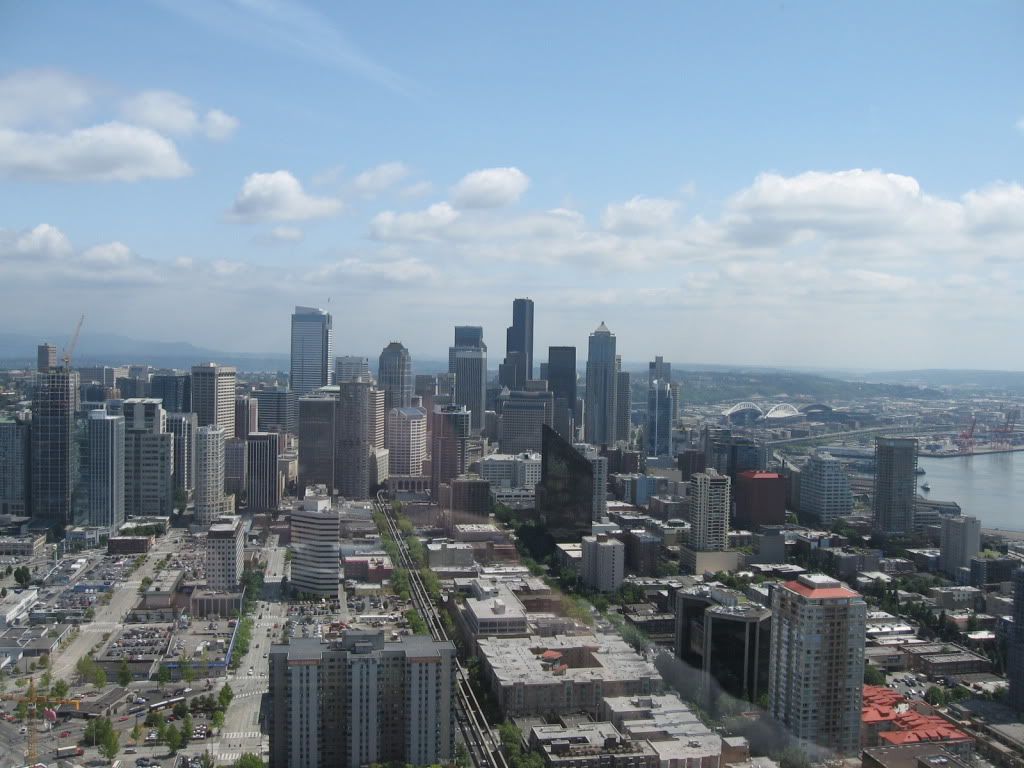 Downtown Seattle from atop the Space Needle.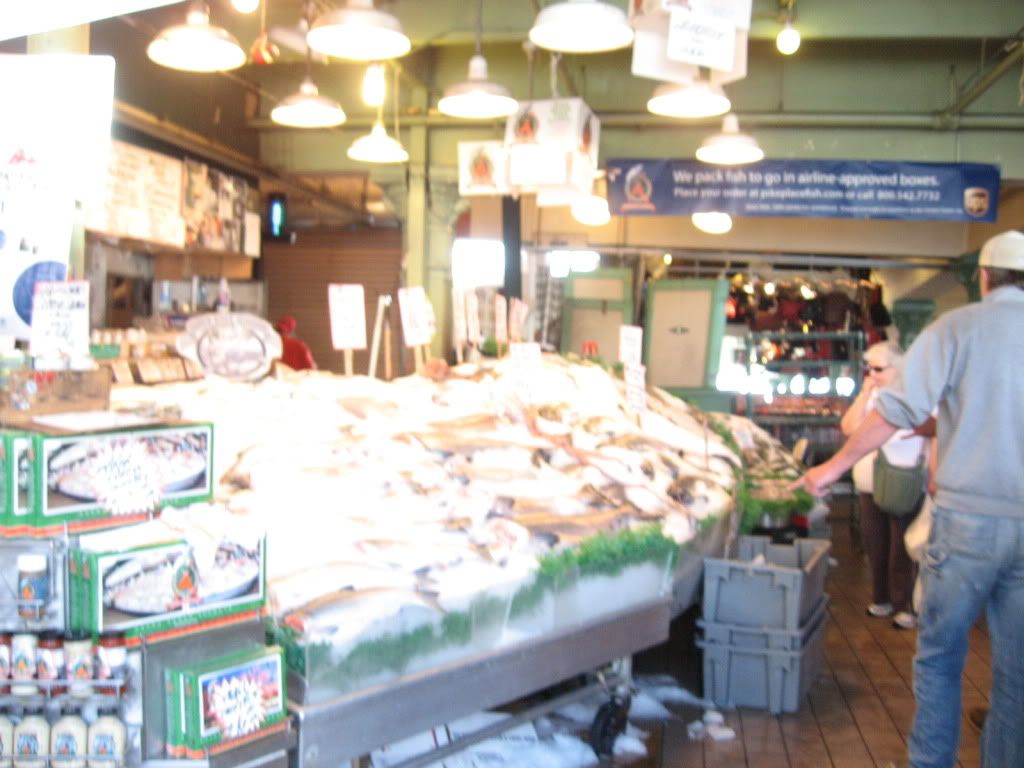 Fish at Pike Place Market...and boy, did they stink.
I left my brother's place after he left for work. I grabbed a few things, and then did something important and overdue: preventive maintenance on my car. I brought it in to Jiffy Lube and had the oil changed and some other stuff done. The last thing that could afford was a vehicular failure, especially considering my distance from home and what I was about to put the car through. After that, it was clear sailing to Seattle - until I left I-5. I trusted the Garmin over the road signs to get me to
Seattle Center
, and that proved deadly, as I ended up going down what seemed like every under-construction street in downtown Seattle. Upon reaching the target, I took in some of the various things in the immediate area. At KeyArena, I paid my respects to the departed SuperSonics. It's a toss-up between the situation there and the Browns in 1995 as for the worst treatment of a city by a team owner. Of course, I went to the observation deck at the
Space Needle
and took in the views. I still give the edge to the Gateway Arch. While the Space Needle does offer a full 360 degrees, the higher Arch makes the view just a bit better.
I then headed downtown and checked into the Pioneer Square Hotel. I had some options from here; my brother's friends had given some suggestions, and I also consulted
Razzy
, who is native to the area and recently moved back there. My next stops ended up being
Qwest Field
and
Safeco Field
, and then I went the opposite direction and hit up
Pike Place Market
. It's a nice little collection of shops - and boy, you could smell the seafood on the top floor. Having grown up near the sea, I've been in plenty of fish departments before, but this place gave off one of the strongest odors I've ever smelled. Having gone south and then north of my hotel, I went south again for dinner - to the
Pyramid Brewery
. While not explicitly based in Seattle, it has many locations on the West Coast and all the beer is locally brewed, so it was good enough for me. I headed out to try to find something worth partaking in, but it was Monday night, and nothing was jumping. I stopped off at a convenience store in search of some
Rainier
beer. Just as I call
Yuengling
"Vitamin Y," denizens of the P-N-Dub refer to Rainier as "Vitamin R." I had to settle for
Red Hook
; I was quite surprised to learn it was brewed in Washington, as I thought it to me exclusively native to the New Hampshire Seacoast. I simply took the six back to my room and downed it. Try as I might, I couldn't get to sleep early. Fortunately, I had already planned to shorten the following day. It would be necessary, as I certainly didn't get a whole lot of rest before starting the most arduous three days of the trip...
Pictures:
Day 21 (Seattle)