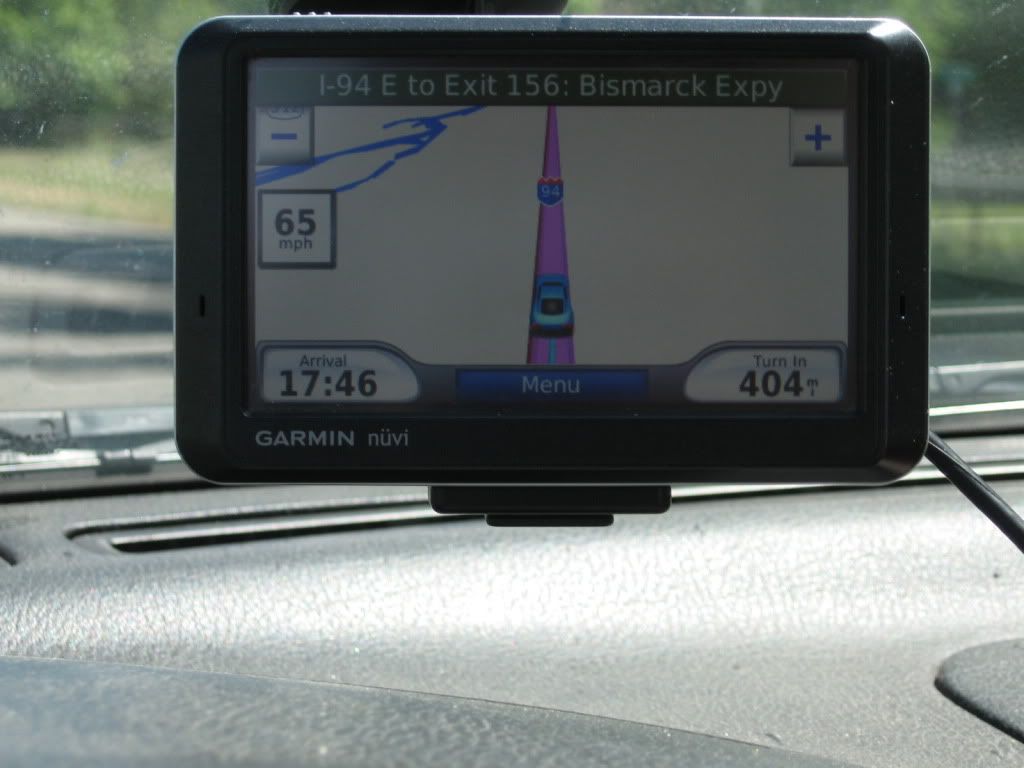 This was at Billings, Montana, just before noon - AFTER I'd already gone 350 miles on the day.
This doesn't look like a state capitol building at all...but it is. Bismarck, North Dakota.
It began at 6:15 a.m. local time. In these beautiful post-Navy days, I refer to that as an ungodly hour; it's the first time since then I've been up that early. That's not the only way it was different from the others. After showering and repacking everything, I went downstairs and had...a full breakfast! I'm normally a two-meals-a-day guy, preferring sleep to food in the morning hours. But I knew I'd need a solid start in the stomach.
The day's green flag dropped at 7:12, and there wouldn't be any unnecessary stops. No...sleep...'til Bismarck. Indeed, two of the first three stops were for fuel. The second gas-and-go was just past Billings, and that was a bit of an error. I should have taken both food and fuel before transferring off to Interstate 94. Once on that highway, it was back to the typical nature of interstate highway in the mountain states - small towns and long stretches of no services. By 1:30 p.m., I had to stop for food, despite there still being fifty miles of pavement between me and the next major stuff at Miles City. I found a nice sandwich shop at Forsyth, grabbed, and went again. Luckily the highways in this part of the country are perfect for what I needed to do; they have high speed limits and are devoid of traffic.
For the only time on the trip, I had to take a third fuel stop, just inside North Dakota. There was a noticeable change in the scenery as the state line was crossed; the Peace Garden State was a lot more lush and green than the Treasure State. The only real trouble spot of the day was a long single lane run, where I actually had to cross into the westbound lanes. During this interval, I lost another hour to a time zone change. I made it to Bismarck just before 7 p.m. Central time. Excluding stops, I spent just over ten hours behind the wheel; the average speed was
75.6
miles per hour. Once safely in Bismarck, I got dinner from across the street at Pizza Hut. Seriously, I had no idea that the place was primarily a sit-down restaurant. After dinner, I ran into another problem - the Garmin's suction cup had detached from the mounting lever. It took some effort, but I was able to put it back together. Of course, that wasn't so important in the short term anyway; I was getting ready to head into Minnesota, the only state that doesn't allow a GPS to be attached to a windshield. And there was no rest for the weary - I still had to cover more than four hundred miles to reach Minneapolis the next day...
Pictures:
Day 23 (Missoula-to-Bismarck)