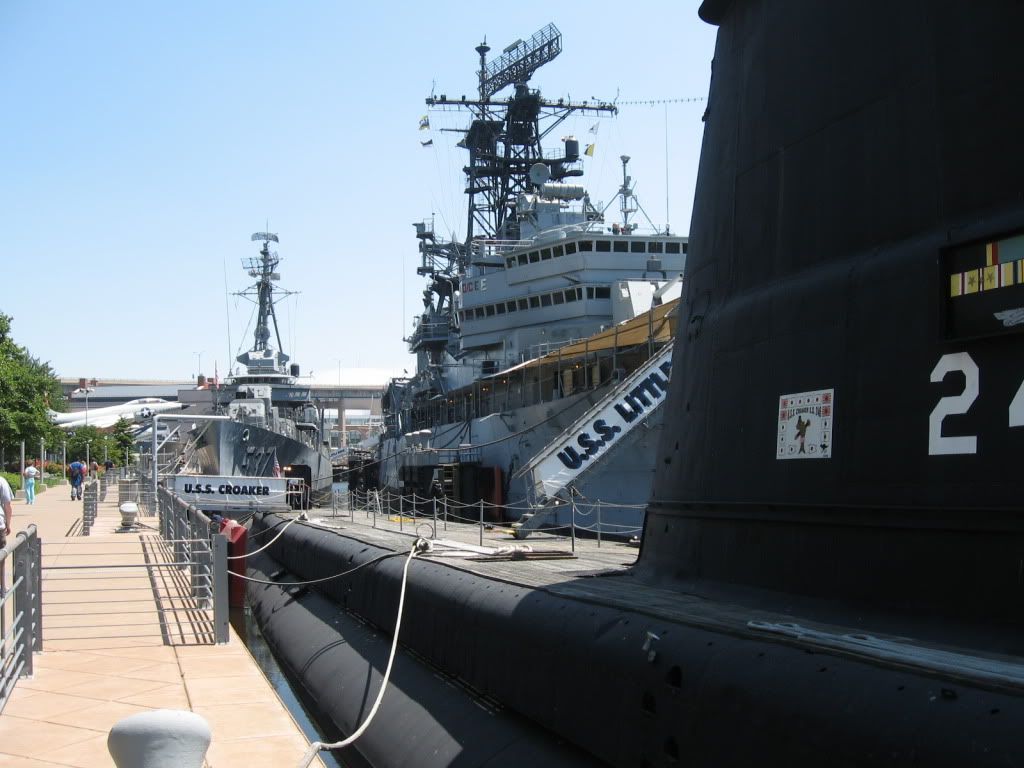 The Naval exhibit along the Lake Erie shoreline in Buffalo.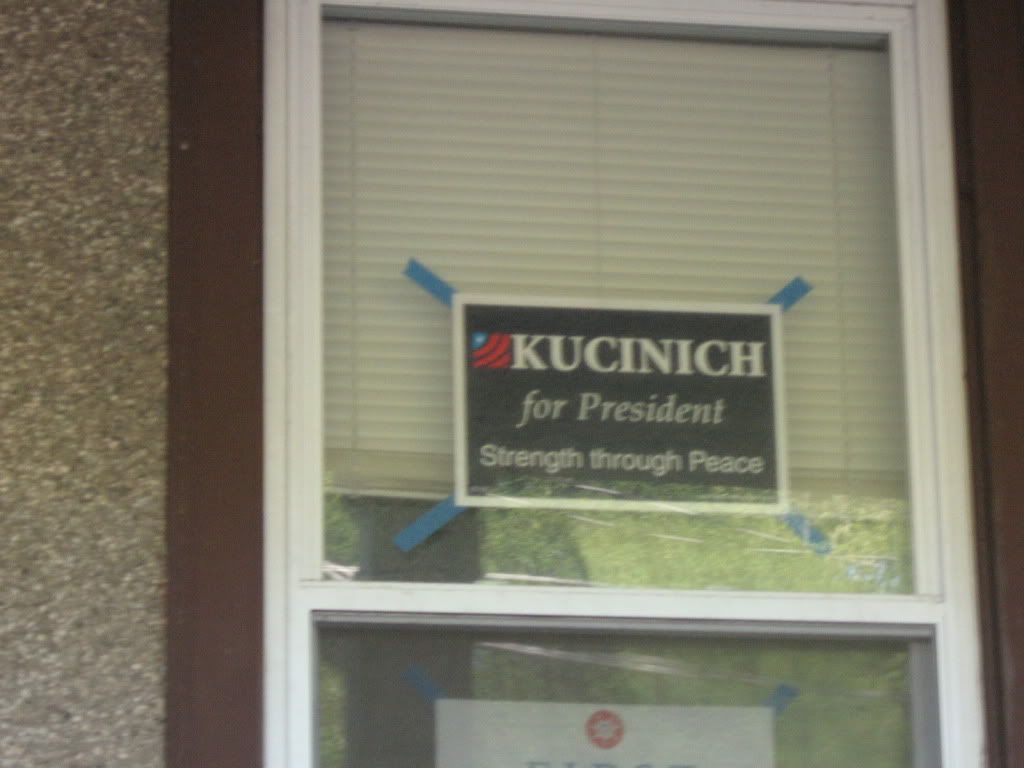 Nothing says "welcome back to Ithaca" quite like a sign like this.
It was right back onto Interstate 90 to start the day, rolling across northeast Ohio and into Pennsylvania. I did stop at the rest area just over the state line, as I didn't take any pictures on the opening day (leaving Iowa as the only state not photographed, though I did set foot upon it). Though I still may have been far from my ancestral home, I rolled back into my native state of New York at 11:25. An hour later, I reached Buffalo and made a beeline straight for a place I'd been thinking about visiting since the start of the trip - the
Anchor Bar
. It's the place where chicken wings were invented, and they were totally scrumptious. You can eat wings at places like Hooters or Buffalo Wild Wings, but until you've been to the Anchor Bar, you haven't truly experienced them. After that, I headed for downtown Buffalo. I checked out the marina area, which included a lot of old warships. I also went by the HSBC Arena, home of the Sabres and site of Cornell hockey's loss in the 2003 national semifinal. When I got back to the car, I needed some information from the Garmin - specifically, an estimated time of arrival...
...in Ithaca. I was wondering, "why not? There really isn't anything in Rochester, but Ithaca...is
Ithaca
." This was at 2:40 p.m.; the GPS said I'd arrive just after 5:00. Factor in stops, and that time shifts to between 5:15 and 5:30. Done. It's back onto the New York Thruway, now going a bit further than expected on that road. Once off, the Garmin gave me a great route in - halfway down, it diverted me onto Route 89, which runs right along the western shore of Cayuga Lake, affording me
beautiful vistas
. As predicted, I reached Ithaca at 5:22. After a lap around the Cornell campus, I checked into the
Hillside Inn
on Stewart Avenue. Before leaving Buffalo, I considered spending the night at the Statler Hotel on campus. Then I realized the Hillside had just as good a location for a lot less money. In contrast to San Francisco, I knew exactly what I was getting into when I picked this place - and besides, the surrounding area is much less dodgy. Once settled, I headed onto Cornell's campus for some photography. I focused much of this effort on
West Campus
, the complete redevelopment of which is now finished. I noted several contrasts as I walked around. One, there's a clear division between the pre-existing structures and those that have gone up in the last few years. And I also thought of how totally different it looked from
when I was there in 2007
(and everything west of Baker Tower was a construction zone) and from when I was an undergraduate (and the Class Halls and Noyes Center were still there, and freshmen lived on West Campus, and we walked ten miles, uphill, both ways to classes).
Dinner was at the Nines, the place on College Avenue famous for its deep dish pizza. It's special to me for another reason. Every year, on the Sunday night before classes start, the
Big Red Marching Band
has its first rehearsal of the new year. After said rehearsal, the band rolls to
The Nines
en masse and, as I told the bartender on this Wednesday night, "
shuts the place down.
" The pizza was even better than I remembered, and the Ithaca Beer went quite nicely with it. I went back to my room, changed, and then headed out in Collegetown. Back in my student days, I wouldn't have been caught dead in any of these bars. On a typical Friday or Saturday night during the school year, these places are filled with the fraternity and sorority crowd, which wasn't my scene then. We generally made our own parties at one of the houses in which we resided - not only did we have a better time, we didn't have to exclude the under twenty-one set. But on this mid-summer Wednesday night, I decided
Rulloff's
might be worth a try. The crowd was sparse, and many of them were off-duty bartenders, but I still had a fun time. On multiple occasions, members of the crowd engaged in fake wrestling. Just after midnight, I rolled down the hill to
The Chapter House
, a place were I had previously celebrated the twenty-first birthdays of a couple of my friends. I was also impressed by their row of taps - I counted thirty. But it had to come to an end - and in Ithaca, that happens at 1 a.m., much earlier than in the rest of New York. Despite that law, it was well worth it to divert course, as it reminded me again of just how awesome it is to be far above Cayuga's waters...
Pictures:
Day 30 (Buffalo, Ithaca - Cornell and Collegetown)