The Commons, downtown Ithaca.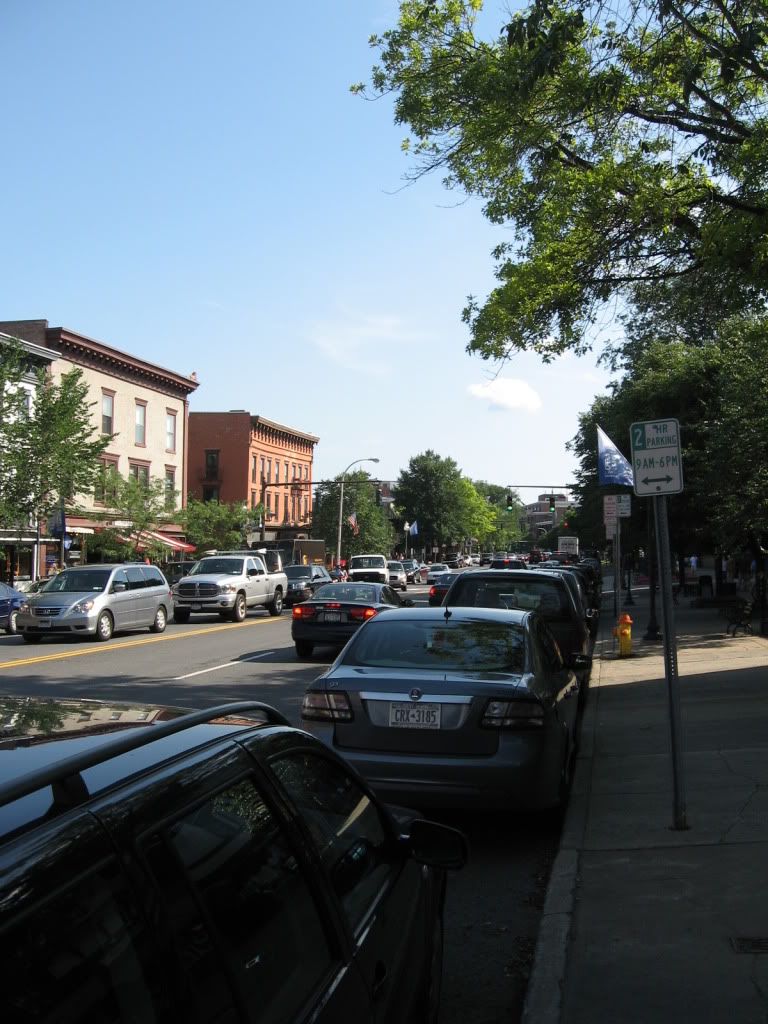 Broadway, Saratoga Springs.
The fourth-to-last day started by getting to some places in Ithaca that I hadn't reached the night before - namely,
Stewart Park
and the
Ithaca Commons
. Once that was done, I headed to East Hill Plaza to briefly reacquaint myself with the place where I butchered sports radio for a few years -
the studios and offices of WVBR-FM
. They're still adorned with the "New York Holstein Association" sign outside, even though WVBR takes up most of the building's space. I also got a few things at P&C across the street. Among these items were tissues and Claritin, as I'd be staying with J. Raymond - and his cats. I took I-481 around Syracuse, and while I did, I saw just about the least-expected thing...
a "NPT" bumper sticker
. People from Northport this far away? Surprising. I bypassed lunch and gas at the first rest stop, because I wanted something I haven't had in a long time, and that can be only be found in a few places (including New York Thruway service areas) -
Roy Rogers
. My family used to go to those places all the time.
It was most delicious
. On the way out, I noticed
a poster speaking to returning veterans
; it listed a number of symptoms, and gave a number to call. Half the things on the list are par for the course on a submarine.
I took Geyser Road into Saratoga Springs, the same road I took to and from work nearly every day of the twenty-four weeks I was stationed at Nuclear Power Training Unit. I took the car past
the place I lived
during this time as well. Then it was on to the
National Racing Museum
. Just one problem: it was 3:40, and the place closed at 4:00. That option having been foreclosed, I headed for Congress Park. The most interesting thing I saw there was a group of three young women. One was most likely there simply for moral support. The other had a camera significantly more sophisticated than my little Canon, and she was capturing
the third...in various poses
. Not overtly seductive or anything, but this chick was doing modeling shots in Saratoga Springs, New York, of all places. After a brief stop in Borders, I called J. Raymond to set up a meeting. He tells me to go in front of the Starbucks. Then I start hearing my name...and there's his car, and he's still in uniform. The first thing I note is that he still has his Connecticut plates, which contain the infernal (to us, at least) number "691."
We spent an hour catching up, during which his fiancé arrived. During this interval, we learned of the death of Michael Jackson. I hadn't even known of his hospitalization at this point, and we were all shocked at the news of his passing. We had been discussing the deaths of Ed McMahon and Farrah Fawcett and the illness of Walter Cronkite, and Emmy noted that celebrity deaths often come in threes. Once we found out that Jacko was gone, I reasoned that Cronkite would be all right for another five to ten years. The three of us had dinner at
Irish Times
, during which I regaled them with many of the tales I've written about here...and a few that I haven't written about here. After dinner, it was time to hit
Caroline Street
, the main drag of bars in Saratoga. We started at
Gaffney's
, but the scene wasn't totally to our liking, so we moved on to
Desperate Annie's
. It was trivia night, and even though we weren't playing, we did quite well on the questions. This night would end early, as J. Raymond wasn't feeling so well and he had to work the following day. They went to bed, while I stayed up for a while longer, doing quite well with the cats. I might not have gone as hard as I'd have liked, but seeing J. Raymond and Emmy - and getting a free night of lodging at their wonderfully-located pad - was a extremely welcome addition to the trip.
Pictures:
Day 31 (Ithaca - Stewart Park and Commons, Saratoga Springs)