...with its waves of blue, stands our noble Alma Mater, glorious to view.

Grand Bonecoming is in the books, and it was off the hook, off the chain, and off the charts. And now that I've returned to my ancestral home of Northport, it's time to set the memories down in words. There's a lot of stuff to talk about, so I'm going to present this one in cuts.

Friday morning/afternoon: back at long, long last
I awoke in Oneonta at 6:00. Why so early, you ask? Well, I had no business in Oneonta, but in Ithaca, there was a piece of my heart with which I was anxious to reunite. By 7:00, I was on I-88, and just over an hour and a half later, the Minivan o' War rolled onto the Cornell campus for the first time in four and a half years. I drove up East Avenue and past many of the places I lived or partied while I was there - 207 Kelvin (third and fourth year home), 106 The Knoll (sax house during my first two years), 528 Stewart (the original Haus - trumpets suck), 414 Stewart (second year home). As I drove down Stewart Avenue, I spontaneously broke into the Alma Mater. Sure, it was badly out of tune, but I was just that freaking happy to be there. The weather at this juncture was standard for Ithaca - overcast with a bit of rain. I thus elected to purchase an umbrella. I tried Wal-Mart, but they didn't have a large black one; the black was necessary because that's the only color that complies with Navy uniform regulations. K-Mart came through, and I searched for a place to park the car. I found one in the public lot on Dryden Road, and at about 9:45, I set foot on Cornell University soil after 1,720 days away.

As I walked up Ho Plaza and onto the Arts Quad, one of the first thoughts I had was that however wrong things may have gone, it was always the right decision to go to Cornell. That reflection gave way to a slight sadness when I saw the red and white painted footsteps between the statues of Cornell's two founders. I realized that I very much would have liked to take that walk - the one that ends on Schoellkopf Field with a diploma - and though I may yet do so somewhere else, it won't be on Ithaca's East Hill. Then I went into the Cornell Store, and the experience was almost surreal. A great many of the people who I worked with there when I was in school were in the exact same places. It was almost as if the previous five years hadn't happened. I bought over $120 worth of stuff, and a very nice young man named Jared ringed me out. I mention this only becomes it comes into play later. He actually tried swiping my very old student ID through the register, but it didn't work. After getting lunch at Subway, I received an unexpected phone call from the 603 area code. It turns out that my apartment complex in Portsmouth had to issue new keys for my apartment, and wanted to know if I'd be picking them up that day. I told them I was four hundred miles away, but that my roommate could handle it. I then called Ray and informed him of the situation. A half hour later, he called me back, and in typical submariner fashion, tried to fuck with my head, telling me that I'd need to return to Portsmouth to settle the issue. However, I called his bluff, knowing that wasn't plausible. Walking up Ho Plaza again, I looked to my right, and came upon old friend sighting number one - the Parkins. Chris (aka "Bizarro") and Becky had their year-old son Danny in tow. Seeing that someone my age has already reproduced made me feel just a tiny bit older. We caught up for a few minutes, after which I continued my walk up towards the center of campus. Upon reaching McGraw Tower, I decided that I'd ascend to the top for the next chimes concert, which was an hour away. During my time as an undergrad, I never listened to the Cornell Chimes from up there, and thus I decided it was a must-do that afternoon. I worked my way north, over the Suspension Bridge, and toward North Campus, where I lived my freshman year. The two newest dorms were there when I left, but it still looked weird seeing them. I then walked down toward the engineering quad. The new Duffield Hall looked beautiful, but Upson, with its old-school yellow paneling, was just as ugly as it was five years ago.

As I made my way back to the tower, there was a young woman yelling "hug a queer on Ho Plaza!"; I found that quote too funny. Apparently, in addition to being Columbus Day, Friday was also National Coming Out Day. Just after 1:00, I climbed the 161 steps to the top of the tower. When I reached the summit, I remarked to myself that whoever put the pumpkin atop the tower ten years ago had some balls. The concert was loud, but it was cool, and I got a lot of spectacular photos of the entire region. I then walked out to the athletic facilities, including the Friedman Wrestling Center - or as I like to call it, the J. Andrew Noel Memorial Boondoggle. Seriously, did we really need a completely separate building just for wrestling? But I digress. I then checked out the half-destroyed West Campus, which is being renovated as part of some kind of living-learning initiative. I walked back up the hill, and realizing that I'd seen pretty much the entire campus, I pondered my next move. Ultimately, that move was to check out the "bone house," site of that night's festivities. Upon getting there, I noted that there was street parking available; I therefore walked right back up the hill to retrieve the Minivan o' War. I brought it down and parked. It was now nearly 5:00, and it hit me - there's nobody there, the band is rehearsing. So I chilled and read, and finally globs of people started showing up. I debated whether or not to enter - after all, this was an apartment that I'd never been in before, filled with people who were all at least five years younger than me, none of whom I'd ever met face to face. I finally decided to go in, bringing in my Bone Mug and a case of Sam Adams, which was well received by the young ones. Fortunately, Grant MacIntyre was there, so at least I knew somebody. After a few minutes of banter, it was time to commence the evening's activities.

Friday night: the Pines and the party
Five undergrads and myself filled the Minivan o' War for the trip to the Glenwood Pines on the west shore of Cayuga Lake. As we drove through downtown Ithaca, the conversation recalled many old memories, including some about schoolwork - a topic I didn't expect to come up at any time during the weekend. Everybody in my car apparently trusted my sense of direction, and that turned out to be a mistake, because I picked the wrong highway (I drove north on Route 96; the Pines is on Route 89). We quickly recovered from that blunder, and made it to the restaurant just after 8:00. We entered, and there in front of me was...just about everybody. Of course, we had many of the current undergrads. There were people I went to school with, like Chad '02/MEng '04, Jacob '03, Tau '04, Lauren '06, Tom ('03), and Rico ('02). The parentheses denote that those people are, like me, technically "class of did not finish." We had people who graduated well before I did, like Adara '99, Harlie '99, Liz '98, ten-year grad student Scersk '97 ("the Queen of Bonecoming"), Rich '96, Ersk '93, and Craig '91 '92 '93. I told Jacob and Scersk about the Shellback and Blue Nose ceremonies. There might be a rule that you're not supposed to talk about those events to the uninitiated, but it doesn't matter - because you can tell your family anything, and Da Bones are family to me. Just after 8:30, our giant party was seated. I was at a table with Scersk, Lauren, Maggie (Cello) '07, and...Jared '10, the very same guy that I saw at the register in the Cornell Store. We all ordered up - Pinesburgers all around, of course. I'd missed this glorious concoction - it is, after all, the only cheeseburger I'll eat. And it was every bit as good as I remembered them.

After dinner, we all made our way back to the Bone House for the Grand Bonecoming party (or "happy hour," as we refer to parties). I was graced with a stroke of fortune at this time, as there was sufficient space behind the house for the van to be parked. My group was one of the first to make it back; it seems that the other alumni had to detour, in order to purchase copious quantities of the Elixir of Joy, which you may know better as beer. Upon Jacob's arrival, he plugged his iPod into the sound system and formally began the party with fifteen minutes of light jazz. I ran out to a quick start on my own drinking, and not long after, a game of OFIGTK had commenced. It wasn't the two-player game to which I'd challenged Jacob last week, but I still joined in. That might possibly have been my worst decision of the night, if not the weekend; compelling myself to drink several times in quick succession tripped the high level alarm on my stomach, and I covered my mouth and walked to the bathroom. Luckily, I projected everything - Pinesburger, fries, and Boston Lager - into the bowl, and with minimal staining on my shirt, I gave myself the all-clear to resume consumption. The drinking and carousing continued, everyone enjoying the company and alcohol, nobody making a large scene...and then Chips showed up. Chips arrived to the Bone House completely tanked, jacket over his head, having taken nine shots of 151 at the tubas' homecoming event. There was also some mention of the removal of clothes; fortunately, that aspect of their party was not transferred to ours. We all kept going on beer, catching up on our lives, until finally it was about 3:00, and everyone was exiting. This presented me with a dilemma - I didn't secure a hotel room anywhere in Ithaca for the weekend. I was planning on simply crashing at the Bone House, but with everyone being herded out, I elected to leave as well. I was in no condition to move the Minivan o' War, but I did have a sleeping bag in the back. I crawled in and passed out. It was the first time I'd ever slept in the back of the van, and it was certainly more comfortable than the racks I sleep in on the Submersible Death Trap - and I didn't even have a pillow with me on Friday night.

Saturday morning/afternoon: the game and all its trappings
I awoke at 10:00 Saturday morning. Remembering from the previous night that the tailgate began at 11, I quickly hauled myself out of the car and made my way up College Avenue. As I reached Barton Hall, I saw many more alumni - including the Owens couple (Mike '01 and Susan '02), and the Salsburys (Joe '99, Peggy '01.5, and their son Anthony). As Peggy introduced her son, I confided in her, "I'm a bit hungover from last night." Peggy's reply: "No, Matt, you're still drunk." Five years ago I would have berated myself for this condition, but on Saturday morning, the thought was "I'm still drunk? Awesome!" We made our way up towards Kite Hill, pausing to check out the inside of newly-renovated Lynah Rink. Atop the hill were the two things I desired most at that juncture - food and more beer. This time, it was Yuengling, which I'd never had before but was very impressed with. The band arrived, and played its normal pregame concert - causing another flood of memories as I relived the days when I was in a red and white uniform, trombone pointed skyward, playing each note with Big Red pride. Even though I didn't have my instrument, I marched in with the band; not only was this nostalgic, it saved me the price of admission to the game.

The game itself wasn't particularly well played, but Cornell used a third-quarter pick-six (interception returned for a touchdown) and a beautiful touchdown pass to the back of the end zone to take a 17-14 lead late, and the Big Red held off Colgate on fourth down to seal the win. Because of a field hockey game to be played on Schoellkopf later that night, the field wasn't available for the usual postgame concert, so it was back to the top of Kite Hill. All the previous drum majors in attendance got the chance to ascend the ladder, aardvark, and conduct the BRMB once again. After that, it was back to the band room, which looks a lot better than it did during my days. After getting some snacks, it was time to head up to Lynah for another great Cornell event: the annual Red-White hockey scrimmage.

Saturday night: Red-White and another party
I got to the rink fairly early, well before anyone else from the band did. Once people determined which band they'd be in, I stood behind my friends in the White band. In retrospect, I should have grabbed a trombone from the band room and played with the band. The teams took the ice, and played several small periods of even-strength and various power play combinations. At the conclusion of these, the White team led 2-1, but the Red was dominant in the subsequent penalty shootout, winning that portion 5-1. During an intermission, there was a ceremony to dedicate the Ned Harkness Alumni Room. Many of the great players from mid and late 60's returned - most notably, Ken Dryden '69, one of the greatest goaltenders in the history of hockey. The ceremony concluded with an appearance from Harkness himself, who coached Cornell hockey to both its national championships (the second of which was the 29-0-0 season in 1970).

I lingered in the rink for a bit, and then left to kill some time before the night's party. I walked towards Willard Straight Hall (the student union) to fill up my Gatorade bottle with water, but the fountain there wasn't working. I headed back into Collegetown, and then down the hill towards the new Haus (the residence of the trumpet section). Once I found East Buffalo Street, the place wasn't hard to locate - it had a giant clock atop it. The clock read about 10:21, which I found funny because as I recalled it's 10:23 that is the sacred time of day for the trumpets. I walked in right about 10:00, and found the Gerber Baby telling stories of his time at Cornell. Mishaps with fire and gasoline figured prominently in these tales, further proving that the trumpets suck. Haus had a real, no-shit kegerator, filled with Yuengling and ready to go, so I filled my Gatorade bottle. Why did I drink the beer from that bottle? Because I'd never drank beer from a Gatorade bottle. The story time continued for maybe half an hour, at which point other people showed up and the gathering actually became a party.

After several refills of the bottle, I eventually sat myself down on one of the couches, and there happened to be a cute girl next to me. At just about the same time, Andy Dodd, an '02 baritone, showed up and started talking to the chick. Let me take a few sentences to provide context for those readers who are not familiar with the Big Red Marching Band. Andy Dodd is basically a white Steve Urkel, in temperament, sound of his voice, and (lack of) success with women. As far back as the time I was at Cornell, his M. O. has been to find a young female with whatever qualities he finds attractive, introduce himself, and continue the conversation about ten times longer than the poor female subject would have liked. He did exactly that to this particular girl. Normally, I find it difficult to save young women from this scourge, but in this case, the fates put a pitch right in my wheelhouse: the girl was wearing a jacket with the words "USS FORRESTAL (CV-59)" across the back. I thus asked her what her connection to the ship was. I introduced myself, produced my military ID, and upon relating that I was in the submarine service, I was in, and Dodd was gone. I was equally impressed when Tara told me she had a brother who'd served in Anbar Province in Iraq. I scored a couple more points when I told her I knew about the infamous fire on the Forrestal's flight deck; her father had helped to put it out. Tara was a bit freaked out by the fact that there were people in their mid to late thirties, some of whom have families, at a college party. I chose not to explain to her how those of us old folk come back to recapture some of the best times of some of our best years; after all, I had an ulterior motive in play. During this conversation, I received a handshake from Rich Hovorka. I'm not sure if he was praising me for fending off The Dodd, or congratulating me in anticipation of an expected hookup. If it was the latter, then Rich doesn't know my history very well. Everything seemed to be going well, until my bladder started screaming at me that it was that time again. I tried to hold, but finally, I had to release. The bathroom was occupied, so I decided to go out front and christen Haus in much the same manner as I did UNH last month. As I reach the front foyer, the following exchange ensues:

Tom Tone (from behind): Carberry!
Carbs: (turns around) Yes, T?
Tom Tone: Is that an open container?
Carbs: (shows the capped Gatorade bottle) Nope.
Tom Tone: Carry on!
Carbs: Carry on, aye.

Gatorade bottle for the win...very nice. Anyway, I go outside, do my business, come back in, and return to the couch, expecting to find Tara still seated there...but no. I sit down for a bit, but about twenty minutes later, I have to go number one again. This time, the bathroom is open, and just before I enter, I find Tara standing there talking to some other dude...a trumpet, I believe. I also recall seeing them dancing together - after Tara had told me that she had no energy left for such merriment. Oh well. Maybe some day I'll learn or acquire that magical quality called "game," but that day was not Saturday, October 13.

Having seen my last, best shot of the night evaporate before my eyes, I resumed commiseration with two great sets of friends: the remaining Bones in attendance, and the loyal quartet of barley, water, yeast, and hops. The keg of Yuengling had been kicked, so I continued with cans of Keystone Light. Everyone who was out behind Haus by this point was totally destroyed. I only took one picture from this party, but it's worth showing here: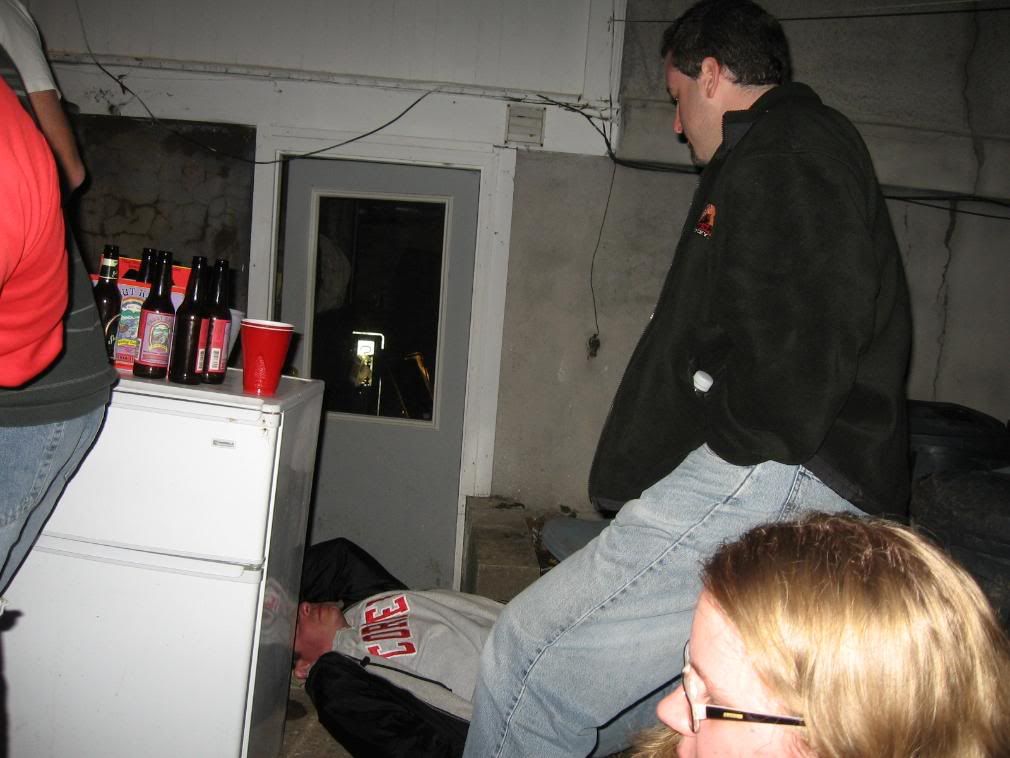 That's Mark Anbinder '89 standing on the right, over a passed out Chris Salsbury '95. This, people, is what Homecoming is truly all about.

There wasn't much more to that night; I do remember one portion of a conversation connecting "Scersk" and "streams of cum." As for the context of these words, I'm at a loss. I also recall drunk-dialing two of my co-workers; one was my roommate, and the other was the same one I unknowingly called on this weekend last year. Sometime after 2:00, everybody decided to make a Hot Truck run. I got separated from the crowd, and concluding that I really didn't want Hot Truck, elected to return to the Bone House and crash in the van. I didn't take the best route to get there; I stumbled - literally, stumbled - up the hill to Collegetown, and then right back down the hill to East State Street. Foregoing the Hot Truck proved to be a stroke of genius; I dry-heaved just before I closed up shop for the night. I also remember getting up to take a piss, and not even bothering to put my shoes on.

Sunday: a familiar trip home
I was up just before 10:00, and after changing my clothes, realized that I had no idea where the Mahogany Grill was, nor did I have anybody's number to call to find it. Not only that, I wanted to ensure I wouldn't hit any really bad traffic coming through New York City. Thus, I fired up the Mo'W and made a discreet exit. I took one more drive around campus, and then stopped at East Hill Plaza. Upon parking there, I discovered that the car next to me had Department of Defense stickers...issued by Portsmouth Naval Shipyard. It's a small world after all. I grabbed a bag of ice, grabbed lunch from Burger King, and headed toward Northport. I deferred getting gas until Pennsylvania; when you're used to paying $2.60 per gallon, three-dollar gas is a very unpalatable option. When I arrived home at 4:30 yesterday afternoon, I handed my Dad his twenty-four bottles of Michelob. One of the first things he said to me was, "Wow. You look beat. Lack of sleep?" My answer: "Yeah...and non-lack of alcohol."

I said this would be the greatest week of 2007, and it certainly got off to a flying start. I've got 132 photos from the weekend, which now comprise my screen saver, replacing the shots from my Boston road trips earlier this year. Thanks are due to all the alumni who showed up, and all the undergrads for hosting - especially the Bone House residents for not making a stink about my van being parked behind the house. Also kudos to the Cornell football team for putting up a W. I came in with high hopes for this to be a special weekend, and it exceeded expectations - I'll joyfully remember Grand Bonecoming 2007 for a long time to come. Oh, one last thing -

Lift the chorus, speed it onward, loud her praises tell; hail, all hail our Alma Mater, hail, all hail Cornell!